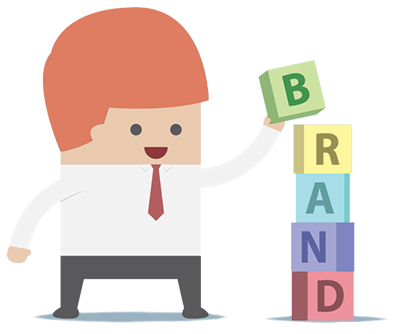 Building a new brand is not easy an easy task, but it's something every ambitious startup and small business needs to spend time on to be successful. Getting customers to connect emotionally with your business in a positive way via strong branding will lead to loyalty, advocacy and ultimately increased sales. So how do you go about building the blocks that create a successful brand? These 7 key steps should help you on your way.
1
What is a Brand Identity?
Before you even begin to consider creating a brand for your business, you need to understand the fundamentals for what exactly a brand identity is – and how it can benefit you. Brand, for the most part, refers to anything and anyone – customer or not – associated with your business. That includes positives, negatives, feelings, colours and ideals, and as such means that there's a large number of factors that can impact your brand, for better or for worse.
Think about the brands you identify with. What sets these brands apart from their competitors, and why do you subscribe to them? The best way to consider your own brand identity is to commoditise how you want your company to be seen, and strive to achieve that image in every business decision you make.
Brand identities are not marketing campaigns, nor are they end products, adverts or research – they are a business image, and as such incorporate all of these aspects.
2
Branding Begins with Feelings
So, we're of the understanding that brand identity is a whole package of different business characteristics – how do we incorporate that into a set of actionable items? When you consider your favourite brands and their brand identities, you'll be well on your way to realising that branding begins with feelings – more specifically, those of your target consumers.
How do they think and feel about their lives and the world around them? Which things matter? Most importantly, how can your business fit in with all of that, and compliment it all?
So, first things first – research. How are you going to know what makes your target market tick if you don't understand your target market? Before you even start thinking about what colour your logo might be, consider the following:
How old is your target market? Are they gender-specific?
How much does your product or service cost?
What problems does your product or service solve for your consumers?
How will your consumers buy your product or service?
Where does your target market congregate?
What do they do on a daily basis?
Where else do they do business? Is there stiff competition?
How will your product or service compliment these aspects?
Once you've got your typical target demographic, and you've made yourself aware of how they're expected to interact with your product or service, you have the fundamentals for building your brand. Every decision you make should take into account your research – because every aspect of your business should forward your brand identity to your consumers.
3
Outline Steps from the Start
Don't rely on a roundabout, intuitive idea of a brand identity, without clear cut lines and building blocks. If you rely only on your ideas and aspirations, you risk not only missing your targets (by not having any definitive ones), but you also open yourself – and your business – up to the chance of your brand's image becoming largely subjective.
If you plan your brand identity build based around hard research and the ideas, thoughts and feelings of your target customers, you won't make the mistake of building a brand that appeals to you – and not to them.
Draw up a branding strategy plan:
List your long-term and short-term goals. Do you want to grow your customer base? Make loads of money? Increase your market share? Write them down.
Consider a realistic time frame in which you plan to achieve these goals.
Think about what help you might need to meet your targets: whether it's financial aid, taking on new skills and employees, or investing in new equipment.
Make your customers central to the plan – after all, they're the ones who will help your business develop.
Aim to build your brand image to communicate your goals to your customer base. The image you communicate will be picked up on by your customers – and they'll tell you if it resonates or not!
Remember – you want your brand to appeal to both the hearts and minds of your customers. In order to do that, you need to think more with the latter and less with the former – rationalise your brand's development, step by step, and consistently refer back to the customer research you carried out initially.
4
Do Something Different
If you look, sound and feel like every other business out there – especially your competition – people will treat you as such. The best brands don't simply blend in with their surroundings – they stand out and go against the grain.
There are too many businesses that share the same mission statements, the same advertising messages and the same ideas on how to solve their customers' problems – while there's comfort in familiarity, don't be those brands!
Consider what makes your business different from the rest. These are known as your unique selling points (USPs):
What can you offer that no one else can?
Do you have a one-of-a-kind product? A different way of doing things that nobody else has tried before?
What makes you different to all the competitors out there
How will your business stand out from the crowd?
As long as your customers know that they can't get these things elsewhere, they'll keep coming back – so make sure they're aware of them in the brand experience you give them.
5
It's More Than Just a Logo
Physical branding isn't just having a catchy, exciting tagline and a recognisable logo. Visually, major aspects of a brand identity include colours, a logo, matching textures, photography styles, fonts and typefaces and icons. The brand identity should permeate all of these characteristics – how you wish to be perceived should influence the colours, logos and fonts, not the other way round!
"Any branding company can create a great, memorable logo and a catchy tagline to spearhead any brand identity growth campaign. The biggest mistake many businesses make is trying to shoehorn their brand identity into the confines of that design, or that tagline – instead of using their existing branding to influence the design in the first place."

Stuart Lawrence, Technical Director, Don't Panic! Design
Use your research and your existing appearance to further develop these aspects, and push your message out to your customers. Consider the following characteristics of your physical brand:
Logo
Colour schemes for your brand materials
Website URL
Pictures and photography
Fonts and typefaces
Icons
Make sure all of these work alongside each other, and work to develop your brand identity further. Do you want to be seen as a friendly, fun and exciting brand? Or a big, corporate, serious brand?
Having bright colours, more rounded logos and a funny tagline might work well for a children's party brand; but not so much for a financial institution.Serif fonts, sharp, dark navy colours and classy greyscale photography would work fantastically for a law firm, but it probably wouldn't communicate the branding for a school activity centre very well.
Think of how your brand should be seen by your customers, and cater for that image with every single aspect – no matter how small or insignificant it might appear to be.
6
Get Recognised Behind Closed Doors
One of the biggest points of a brand identity is to influence and identify with what people say about you and your company behind closed doors. You can go on and on about your business however much you like: the fact is, you're not trying to sell to yourself!
Effective branding is all about recognition. Visually, what do people recognize about your brand? Mentally, what do they then associate that recognition with? People will mark your brand on the quality of your products and services, and their experiences of both. Use your brand identity plan to decide how best to communicate your brand to your customers, and get them talking about you when you're not breathing down their necks! Offer customers something that they want, and take pride in your products and services.If your business provides for customers, they will not only come back, but they'll consistently associate you and your brand with pleasurable experiences – and communicate this to others.
Using social media to engage with customers is a great way to foster this relationship, and it gives you a great way to see what people are talking about in relation to your brand. Offer your best customers – or, "power customers," – something for spreading your brand around. If your customers are regular, and often refer business to you, give them some freebies, or add-on services to their regular ones.
Remember – your services and how well you treat your customers is one of the biggest parts of your brand. Your fantastic services become your legacy, and anyone talking about your brand will inevitably be talking about your service as a result. Give them something good to say!
7
Don't Be Afraid of Change
Up until now, we've looked into how best to build a brand identity from the ground up. All of the steps above can be based on your brand's message right from day one. The key thing to bear in mind is that branding is an evolving process and as times change brands need to change with them.
The biggest brands in the world didn't always get it right from day one and many established brands go through a rebranding process as they discover new things about the needs of their existing and target customers.
Constantly research and re-evaluate the way you communicate with your target market, watch what your competitors are doing, and consider what problems your business is looking to solve and whether you are doing a good job of it.