As a startup or small business, one of your most powerful marketing tools is your website. However, users are becoming more and more picky about where they browse, interact, and shop.
Big brands and services still have a strong online presence on the internet, largely due to pre-existing user familiarity and brand association – but that doesn't mean you can't too.
At everreach, we're almost as passionate about your small business success as you are – so we've put together a few helpful tips to assist you in presenting your site in a way that encourages trust; therefore putting you in a strong position to compete with the big boys!
Headlines and Logo Taglines
Just like any good business, the first thing you need to convey is what your service actually offers. What sets you apart from the competition? Why should potential customers come to you instead of them? This statement doesn't need to be bland, or purely pragmatic – try to use content that relates to your user base by addressing their needs. For example, if you own a bookshop, you don't need to just say, "We Sell Books." Creating an idea in their head, such as, "Looking to curl up with a good book? We can help you find it" allows for a more personable and persuasive approach.
After asking hundreds of small businesses and startups what they wanted from a virtual phone service and why they would use one, we were able to simplify the value of our service into a simple message that is easily understood: Make your small business look and sound like a big business.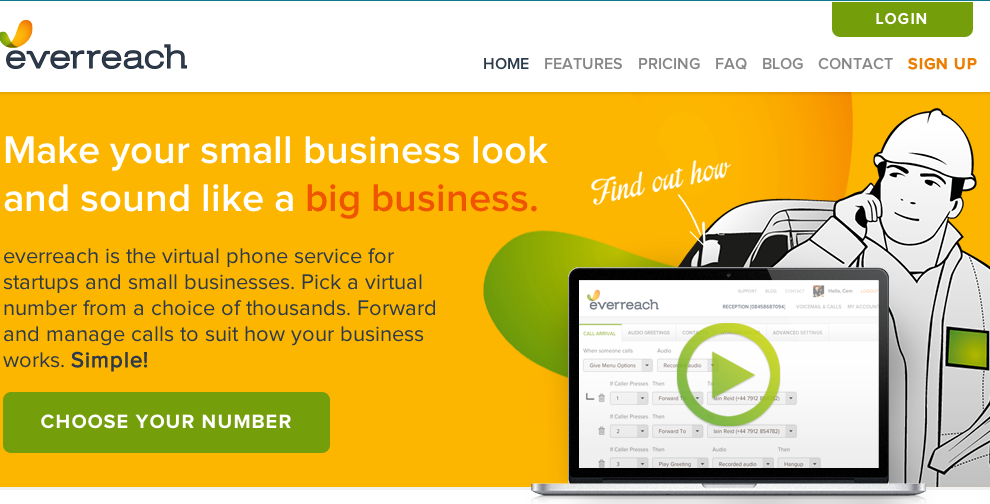 Your Benefits
You need to let users know why they should be interested in your business. People  They are highly unlikely to hunt around your site to find out what makes your service stand out, so you need to make it clear within the first minute of a user arriving on your site. People tend to get easily distracted when faced with large "walls" of text, so setting out your unique selling points, or "USPs," in bullet point or icon form is easier on the customer – and ensures that they don't miss your message.
Here are a few examples to get you started:
+ Free or fast delivery
+ Discount for new users, or a newsletter sign-up
+ Rich company history, if you are a longstanding institution
+ Recognised accreditation
+ Lowest prices, or a price guarantee
+ Largest business, most knowledgeable, or specialised
+ Customer service standards
+ Customer satisfaction rating
At everreach, we display all of our USPs prominently and as soon as possible – directly beneath the title and tagline. Make it easy for people to find the solution to whichever problem they need you to solve, with snappy benefits, like "Sound professional," "Stay flexible," and, "Take control."
Contact Us
In the digital age, many small businesses make the mistake of neglecting other forms of contact. People still like to be able to talk to other people, and it's a lot easier and more personable to pick up the phone. Therefore, ensuring that you prominently display a contact link within the header of your website instantly reassures users that you are a business that wants to talk to its customers. Providing good customer support is something that can set your business apart from its competitors so make sure your customers feel that they can easily pick up the phone and speak to someone should they need any help or information that they can't find on the website.
Also make sure to include your address and any other contact details – the page footer is the best place for this. You may only do business online, but if you want to convey that you are a reputable business, you need to show users that you have a physical presence too. People are more trusting of people they know more about – and having lots of contact information for potential customers to check for themselves provides reassurance.
Depending on your service, live chat functionality may also be very beneficial for answering your users' queries in real-time. Having a function that allows users to ask questions about your services while being able to browse your site allows them a level of freedom and capability, but gives them the opportunity to get the answers they need. It could mean the difference between a browse and a sale.
Accreditations
If you are a member of a recognised association, a trusted partner, or you have received an award for exceptional services; add the badges or a statement in clear view on your site. This builds further trust with users, and can be a major factor in helping a potential customer choose your business over another.

Case Studies and Customer Experience
Case studies are the cream of the crop when it comes to service businesses. How can you prove that your business is top notch without exhibiting your past successes? Think of this as your business' CV, and display your best work for potential customers to see. You don't need to be boastful, either – good work speaks for itself.
We take pride in our case studies at everreach, because our number priority is ensuring we have happy customers. Explaining how real customers have used your service and using testimonials are a great way to ensure peace of mind.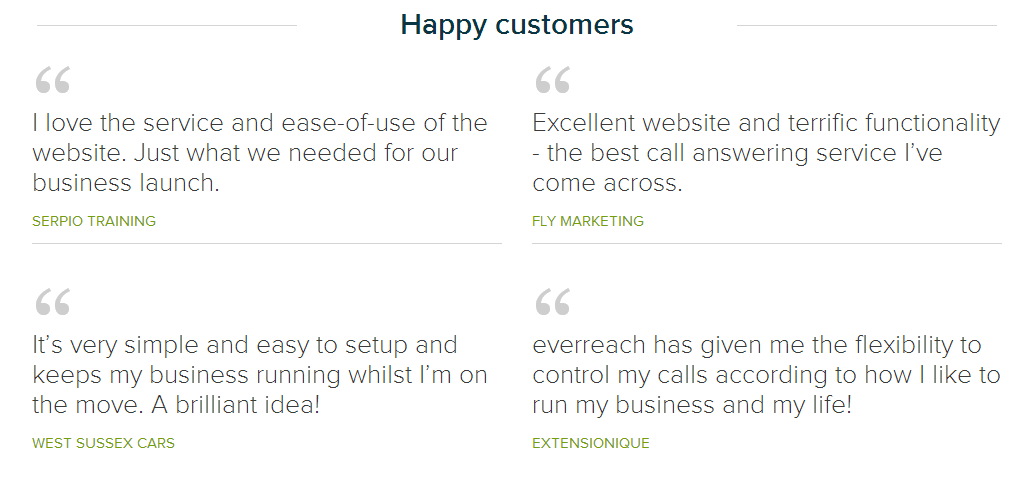 Another great way to show new users how excellent your business is involves letting your current customers tell their story for you. You can blow your own trumpet all day, but people prefer to listen to their peers. If you are proud of your great service, don't be afraid to let your customers review it!
90% of customers say their buying decisions are influenced by online reviews

Review websites have become part and parcel of online consumer decision. A recent study highlighted this by stating that 90% of customers claimed that reading an online review influenced their buying decision, whilst 86% said their buying decision was influenced by a negative review.
For tradesmen, sites like Rated People, Trustatrader and MyBuilder provide potential customers with all they need to make a decision when it comes . TripAdvisor has made the travel industry much more transparent, as well as making businesses that benefit from tourism – such as hoteliers, restaurants and bars – more accountable for their service. The fact is, you know that your business strives for the best in customer satisfaction – let those customers speak for themselves.

The simple fact of the matter is if you run a good business and you look after your customers then you should have nothing to worry about when it comes to featuring your business on a review website. Taking advantage of the reach they provide in terms of helping you generate new business leads can be very beneficial too.
Many review websites allow you to pull in a feed straight to your website. Make sure to include as much detail about the reviewer as you can; including their name and location, as well as the date of the review. If you could also include other relevant details, such as job title, product purchased or even a picture, this makes it easier for new users to identify with the reviewer – just remember, if your service was right for them, it means it is also right for the new users reading the review!
Press Mentions and High Profile Associations
In a similar manner to accreditations, you should let your potential customers know if and when you have been featured in the press, with a link for them to check it out for themselves. Getting press coverage puts you on the map so make sure your customers know when others have something good to say about you!
Similarly, if you have built relationships with other business it is useful to show this off too. Being endorsed as a partner by other reputable businesses that your target audience can relate to gives extra reassurance that your service is also one that can be trusted to do a good job.
Customer testimonials are another great way to show how good your service is – and build trust with future customers.
Social Integration
If you are active on social media – and it's advisable that you are – be sure to let your potential customers know. Show icons for the networks you are a part of, or go further and include posts and comments from them directly on your site pages. This allows for a more personable approach, encouraging users to interact with your business. It adds the "human touch," which can often make all the difference.

Give your customers a reason to keep in touch with you; such as giving examples of topics they might be interested in, or providing them with access to special content or deals.
This allows you to extend your business' presence further across the web – incorporating different social networks to target different demographics of customers. Different sites cater to different communities – for example, Twitter users may not interact with the same content LinkedIn users would interact with. Interacting with different communities can expand your business' reach as well as generating leads and driving another source of traffic to your main site.